This summer you were probably busy climbing up the grassy trail to your local hilltop, road tripping across state lines, or flying in a cramped seat to another country, all while working forty hours a week at a factory job that kills your soul but pays your bills. While you were adventuring and making bank, you probably only heard about the big hitter music that dropped this summer. Skillet, Switchfoot, NEEDTOBREATHE, Relient K, and other chart-toppers released new albums within the past three months, casting a large shadow over the rest of the genre.
If you don't even know about those, what have you been doing? Bingeing Stranger Things in the recesses of your basement?
Same.
In that shadow of the big bands, we find four stellar albums. These are the four albums you missed this summer.

And because I'm a real bro, I made you a Spotify Playlist so you can listen while you read.
https://open.spotify.com/user/123893714/playlist/62mY4zeAihqWh5uJRRXY66
*fist bump*
GAWVI – Lost in Hue
GAWVI is most known for his producing and engineering under Reach Records working for artists like Lecrae and Andy Mineo. Before he joined Reach Records in 2012, he worked under Pharrell, the guy with the big brown hat. You might recognize his signature "GAWVI get em'" at the beginning of songs like "Nuthin'" by Lecrae. This summer he released his first solo album entitled Lost in Hue. It takes a big turn in the sound that Reach has been putting out in the past years, but GAWVI brings the heat.
GAWVI is quoted on his website saying, "The secret to making a great song is a consistent melody and simplicity overall." This is very evident in the four songs this EP has to offer. The beats are straight-forward but have a driving force behind them that really make you want bob your head like Will Ferrell and Jim Carrey. The lyrics also reflect this simplistic mindset. There isn't mind shattering word play or deep, theological beef jerky to chew on, but easy to sing lyrics based on life experience. Such as the first song on the EP, "Late Nights," which talks about overcoming the temptations that come late at night. The Christian genre of EDM has really struggled to sound up to par with those of secular artist but GAWVI brings the sound into a new level. Listeners will enjoy what GAWVI brings to the table no matter what they listen to.
When you first listen to his album, rent a convertible mustang and find a friend who doesn't like to dance but may enjoy nice cars. Max out the vehicle's capacity and volume levels and cruise down the highway at a moderate speed with the everything down for the 16 minutes and 56 seconds it takes to listen to the whole EP. Warning: Driver may find urge to dance despite former refusal of such actions. Be safe. GAWVI has another four song EP set to drop next week! So get ready to bounce some more.
Website: http://www.gawvi.com/#whoami
Facebook: https://www.facebook.com/Gawvi/
The Icarus Account – Over the Moon
Where are my hopeless romantics at? This album is for you. Ty and Trey Turner are two brothers from Florida who bring beautiful harmonies, memorable melodies, intriguing instruments, and emotion stirring lyrics that will have you falling in love with these two long haired, bearded fellas as well that cute girl from across the room in the coffee shop.
The main themes of Over the Moon are true love contrasted with lost love, so beware of the feels. Songs like "Oceans Between Us" and "Cherry Street" are songs for those in long distance relationships. While they write from the perspective of being a band on tour and then coming home to their loved ones, they write it so all LDR couples can relate. "All My Love" and "Only You" are songs that could easily be played at a wedding procession; slow tempos, true love, and forevers. Now if you lost the love of your life at some point or another, "Not Coming Home" and "Tennessee Sky" might help you cope with it. Missing someone you only knew for a short while? Listen to "Postcards" while you stare at the picture they just uploaded to Facebook from hundreds of miles away. What I really love about this album though is that they are completely indie, recording out of a spare bedroom, yet the whole album has a very high production value. Anyways, I'll stop analyzing the lyrics of love songs and quality of sound waves and just tell you to give this album a listen.
When you first listen to it though you should start listening to the title track "Over the Moon" while having a blanket picnic on the island with that special someone. Pop open the finest bottle of Welch's Sparkling Grape Juice, pour her a plastic cup, and watch the clouds go by as you let the Icarus Account's sweet voices make you fall in love at a respectable distance of five inches which is the exact width of two ESV study Bibles. Follow it up with a slow canoe ride through the canal of Lake Johanna. Or if you're single, with a tub Ben & Jerry's best on your dorm-supplied chastity couch watching Friends on Netflix.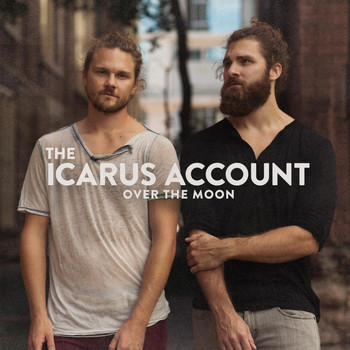 Website: http://www.theicarusaccount.com/
Facebook: https://www.facebook.com/theicarusaccount/
House of Heroes – Colors
The last time I listened to House of Heroes was a couple albums ago with Suburba, which is still on rotation in my 2000 Honda Accord's cd player. I've missed a couple of albums since then but I will be checking the backlogs because Colors is exceptional. House of Heroes is an alt rock band from Columbus, OH, who have been writing music and touring since 2003. While a majority of the members are Christians, it's not always evident in their music. In a 2010 YouTube video, which is no longer available, the lead singer, Tim Skipper said: "We didn't feel drawn to necessarily be in the church and be a praise and worship band, and we didn't feel drawn to just be outside of it. We kind of felt like we should straddle the line, and the big deal was to keep the integrity of the music intact and not to sacrifice any of the artistry." Most of the time, it's up for interpretation.
Colors is a concept album, which basically means there is a large narrative running through the entire album. This is conveyed in repeated lyrics and melodies throughout the entire album. Which is why I'm not going to tell you about it. Go listen to it yourself! I will tell you there are three characters in the story. If you give up and are sick of guessing, Skipper tells the narrative himself in an interview listed below. But seriously, this album is epic. Melodies intrigue and guitar parts show classic sound in contemporary style. It's obvious that they really care about the music and that it is something that they carefully crafted.
When you first listen to this album you should be sitting with a group of friends in a semi-circle of bean bags facing a large TV screen. Your options here differ: If you just want to hear the music, play some shoot 'em up game. I suggest Golden Eye 007 or Tribes. If you don't know what those games are, you need to listen to the Nerd FM, Mondays from 6-8pm. This will allow for mindless fun with a wonderful backing track. If you want to dive into the story, just sit in your bean bag, stare at the ceiling, and let the movie play through your ears. Make occasionally faces of astonishment at your friends as enjoyment takes place. Listen to the whole album at least three times through before moving.
Website: http://thehouseofheroes.com/
Facebook: https://www.facebook.com/houseofheroes/
Interview: https://chorus.fm/interviews/tim-skipper-of-house-of-heroes-2/
Kings Kaleidoscope – Beyond Control
Jon Foreman, the Chainsmokers, and Duke Silver all walk into a tea bar and order bubble teas for everyone. And that's how Kings Kaleidoscope was born. Well, not really. It actually began when Chad Gardner was fed up with what I'm going to call the artistic value of "Christian" music. So he gathered a bunch of his friends from Mars Hills Church, where he led worship at, to craft music that was musically exceptional compared to what he had grown up listening to. Thus Kings Kaleidoscope came to be.
Beyond Control, although lacking the type of movie narrative that Colors has, is also a concept album. Chad says in a Facebook video on their page that it's about safety, trying to be safe by our own means but really it's beyond our control. All the songs are written by Chad, who makes them very personal while riding tandem with the Gospel truth. But before you hear the beautiful sounds or analyze the majestic album art, the first thing you will probably notice is the word "EXPLICIT" next to one of the songs. That song would be, "A Prayer." There is a lot of controversy over Chad's use of the F word in this song. But it is truly honest (there is a clean version, mind you). The song is about a real prayer Chad has sent to God while dealing with his anxiety. He wonders where Jesus is in all of it but the final words are a response from Jesus saying "I am right beside you! / I feel what you feel!" If you want to know more about this song, there is a link below of Chad talking about it on BCPodcast.
Please don't let this use of language make you plug up your ears to the album because you are offended by authenticity. This is a phenomenal record that speaks the truth of Jesus and is worth every listening moment.
When you first listen to it, you should be sitting on the trunk of a fallen tree next to a fire that crackles and sends sparks up into the stars. The arm of your record player slowly bobbing in the grooves of the vinyl as it spins at a 45 pace. Friends for this album are optional but encouraged.
Website: http://www.kingskaleidoscope.com/
Facebook: https://www.facebook.com/kingskaleidoscope
Interview (skip to 33:00 for "A Prayer"): https://soundcloud.com/bcpod/205-chad-gardner-of-kings
And there it is! The four albums you missed this summer. You're welcome.
Did we miss any albums? What are your summer favorites? Let us know your thoughts!

David Kalsow – The Remnant